Online Bill Pay
First Western Equipment Finance is an equipment finance division of First Western Bank & Trust. Customers can pay their equipment finance or lease contracts for free with a checking account.
Contact our billing department at (800) 288-5088 with any questions.
Please refresh this page if idle for more than 5 minutes.
Simple, Secure and Free (No Fees)
Please enter your contract number to begin the payment process
Maximum payment of $20,000 per-transaction, call us to make a payment over the phone if needed.
Now you're ready to proceed with payment. Click "Pay Now" below!
---
Locate Your Contract Number to Begin
To make an online payment, you'll need to locate the Contract Number on your invoice or finance documents. The sample to the right (or below this text, if you're on a mobile device) shows where the Contract Number is located on your finance or lease invoice. It is circled in Red. If you're making multiple payments on several contracts, you will have to initiate a separate payment for each contract agreement. Please make sure to separate the contracts, so we can apply the funds to your account(s) as accurately as possible. Enter both the letters and numbers (if your contract is alphanumeric) into the box, below. If you experience issues with the pay now button not working, please clear the cookies in your web browsers, reload the page and try again.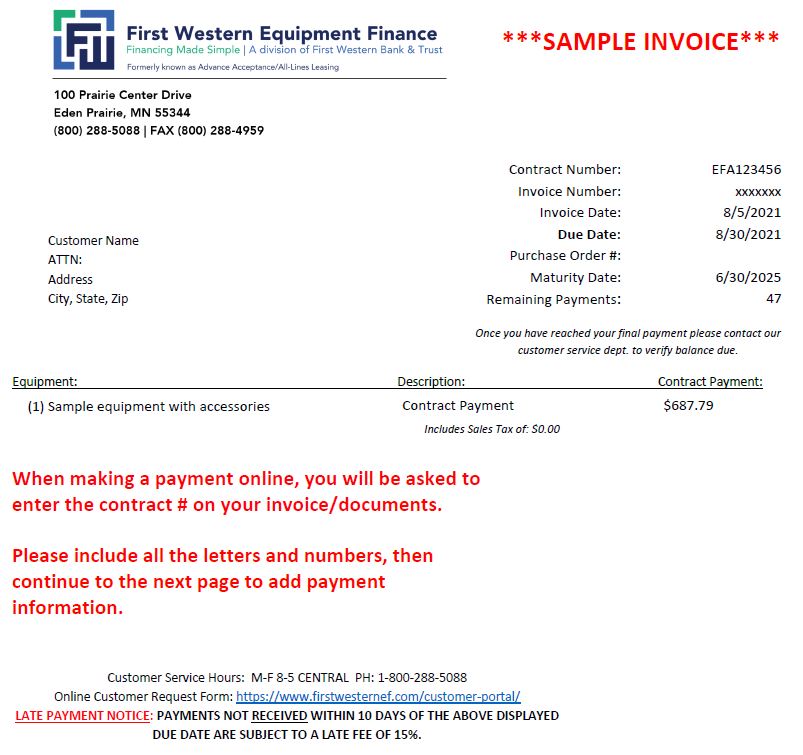 ---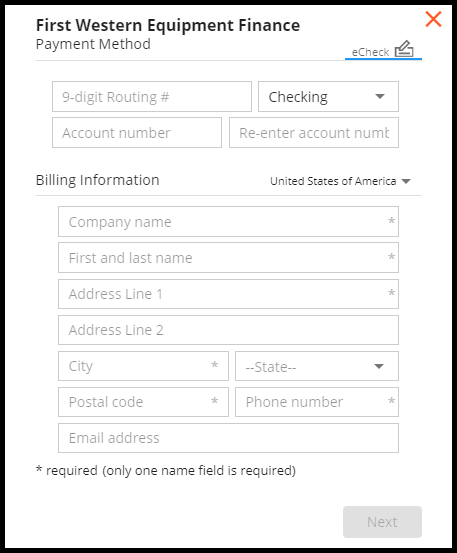 Enter Payment and Account Details
First Western Equipment Finance accepts eChecks (or checking account payments) free-of-charge for payments up to $20,000. Simply enter your checking account number and routing number, into the payment tool, and we will process the payment using that account. Make sure to fill in all of the required cells, to ensure your payment is processed accordingly. Our payment system is easy-to-use and utilizes the latest secure technology. No data is stored our housed on our website. *We do not accept credit card or debit card payments, online. For questions related to online bill pay or your equipment loan, please contact our billing department at (800) 288-5088.
---